I am pleased to be a part of this round table with Tom, Suzanne and Roméo, artists for whom I have great respect and admiration.
In the midst of all the round tables' suggested topics, the one that struck me was Being an artist… The other topics will meanwhile be considered in my comments.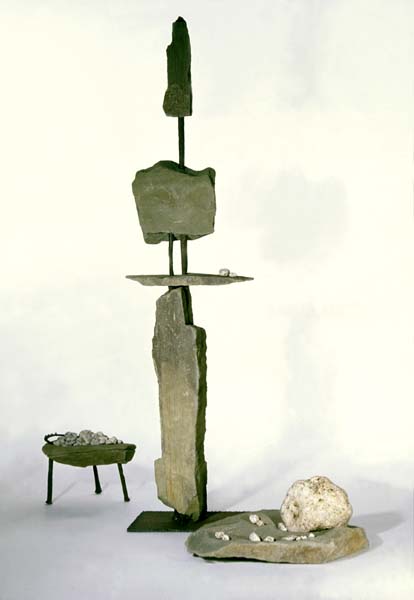 After 35 years of experience, I still cannot define what being an artist means, I can only speak of my own reality.
Looking back, I realize that being an artist was never a childhood dream, and I did not choose to become an artist. I am an artist, not because I had more talent than others, nor because I had something important to say.
I was sucked into a machine's relentless wheel and gradually with time, I had to face  reality: I was considered as an artist.
I also noticed that the more I invested myself in this artistic field, the poorer I felt. I feel as if I were a person who has won the jackpot but has little skill in management. My years of experience in art have taught me that I have to put my treasure in a more secure place than in my abilities, my imagination and my personal reason. I must trust the intuition. The risk and the foggy vision will always be partners of my artistic career. Every new work is a challenge. The let-go is very important to me, but is never easy to put into practice.
My artistic journey reveals a certain evolution. In the beginning creating was pleasurable. Then I thought it might become a service. When I discovered creativity, I was a little mixed up. I wanted to involve myself in studies to learn more about it and to be able to share this gift which we all own but often goes unacknowledged. In the meantime, I felt timid before something so sacred, so very important, and so fragile. Since then, I stay attentive and am passionate to know more and to better understand the creative phenomena. With time, I realised that creativity has something to do with the uniqueness, the being of an individual, the originality of this person's work and that it needed to be treated with great respect. My creative activity has now become like breathing, it's a need and it gives me a lot of reward and joy. Being an artist is now considered to be a vocation and a gift, and I am concerned with my responsibility to continue my exploration of the mysterious power of creativity we all share.
Of course, each person is inspired and stimulated by his/her environment. But inspiration touches different people differently. Personally, inspiration is something on which I have very little control. I cannot say if a special encounter or experience is going to inspire an artwork or not. A work may be inspired by a number of experiences put together. I am not a natural conceptual artist either. Often my idea becomes clear only after the subtle process of the realization of an art piece is over. Recently though, I get the occasional idea on a special theme, for an installation, for instance, but the idea comes from me. It may also happen that a general theme is presented and if it's part of my familiar preoccupations or interests, it may result in a finished piece such as: Caught in the presence of dreams.
Personally, I have no regrets about not being in a larger or more active artistic community. Of course it is important to encounter excellence in arts, not only in your community but also at large. I don't regret being known in N.B. rather than in Montreal or Toronto.  Recognition outside the province is always welcome; it stimulates the ego and self-confidence… I'm rather a local person. I feel well within the intimacy of people I know, and I'm glad to share my works and my experience with my people. If we want the community to be more developed on the artistic side, somebody must stay and work at it.
In N.B. the public's access to the arts and its understanding of art have grown. Of course, one would wish a deeper understanding from the governments and the business world.  I deplore the fact that for the most part, artists have to put emphasis on the economic value of their work in order to obtain support for their creation.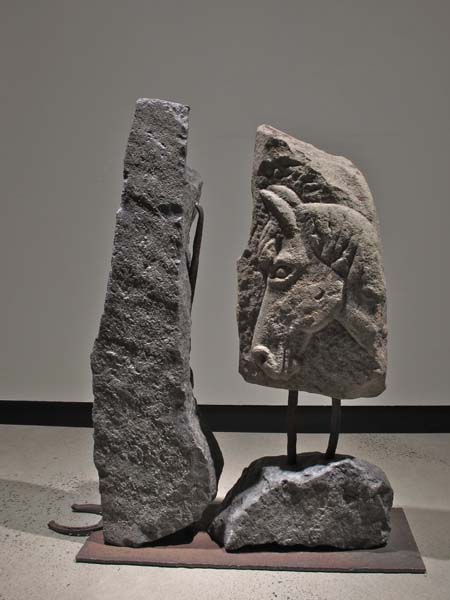 Unfortunately, money is leading the world, and the arts are no exception. The main vocation of the arts is to offer a better quality of life to the people. It permits them to enrich their spiritual life more than their material life. If you want to sell, you start by doing commercial works – which is fine, but it is a different art.
Fortunately, this has never been a factor for the Strathbutler Award. Beyond all doubt, this Award is very important to the artists of N.B. It stimulates excellence in the arts, is a considerable financial support for its recipients, and contributes greatly to the promotion of visual arts in our province.
Upon its reception, I felt increased feelings of « appartenance » to the arts, and a greater confidence in being an artist.
Marie Hélène Allain
Notes for a presentation in a round-table in Marc 2005 after receiving the Strathbutler prize